Frequently Asked Questions
Beretta 92, 96 and M9 Series
HK P30, P2000, & USP Series
Gun Tips and Training Videos
COMPATIBILITY: Are the 92 and the PX4 Hammer Springs the same?
Dimensionally, the hammer springs are the same and will work in the Beretta PX4, M9, 92 and 96 Series guns, however they deliver different performance. A 12# hammer spring in a 92/96/M9 would be considered a competition hammer spring, but in a PX4, it would be perfectly suitable for duty or EDC.
ABOUT: Which Hammer Spring Weight should I choose?
Combined with our Trigger Job in a Bag kit and the following hammer springs, your DA/SA pull weight will be approximately:
11# DA: 5.3 to 6 lbs
12# DA: 5.6 to 6.4lbs
13# DA: 6.3 to 7lbs
14# DA: 7 to 7.5lbs
16# DA: 7.2 to 8 lbs
On the PX4, it will be:
#11 DA 6 to 7lbs
#12 DA 7 to 8lbs
With the Single-Action will be between 3.5 and 4 lbs for both the 92/96 and PX4.
COMPATIBILITY: Will the PX4 Trigger Job in a Bag work in my subcompact?
No, the PX4 TJIB will work in the PX4 Full-size and Compact. You can send your subcompact in for us to do a trigger job on the firearm itself.
LOCKING BLOCK: I lost my PX4 Locking Block/Not Sure Where it Went During Reassembly
More likely than not, your locking block is not lost:
It is fairly common for owners of the PX4 (full-size & compact) to accidentally re-install the locking block into the frame without the barrel and slide. If you think you have lost your locking block, look in the frame first. See the two pictures below, if you cannot look down into the frame between the front slide rails, it is because your locking block is in there. Pull down on the disassembly tabs on either side of the frame and push forward on just the locking block to slide it out of the frame.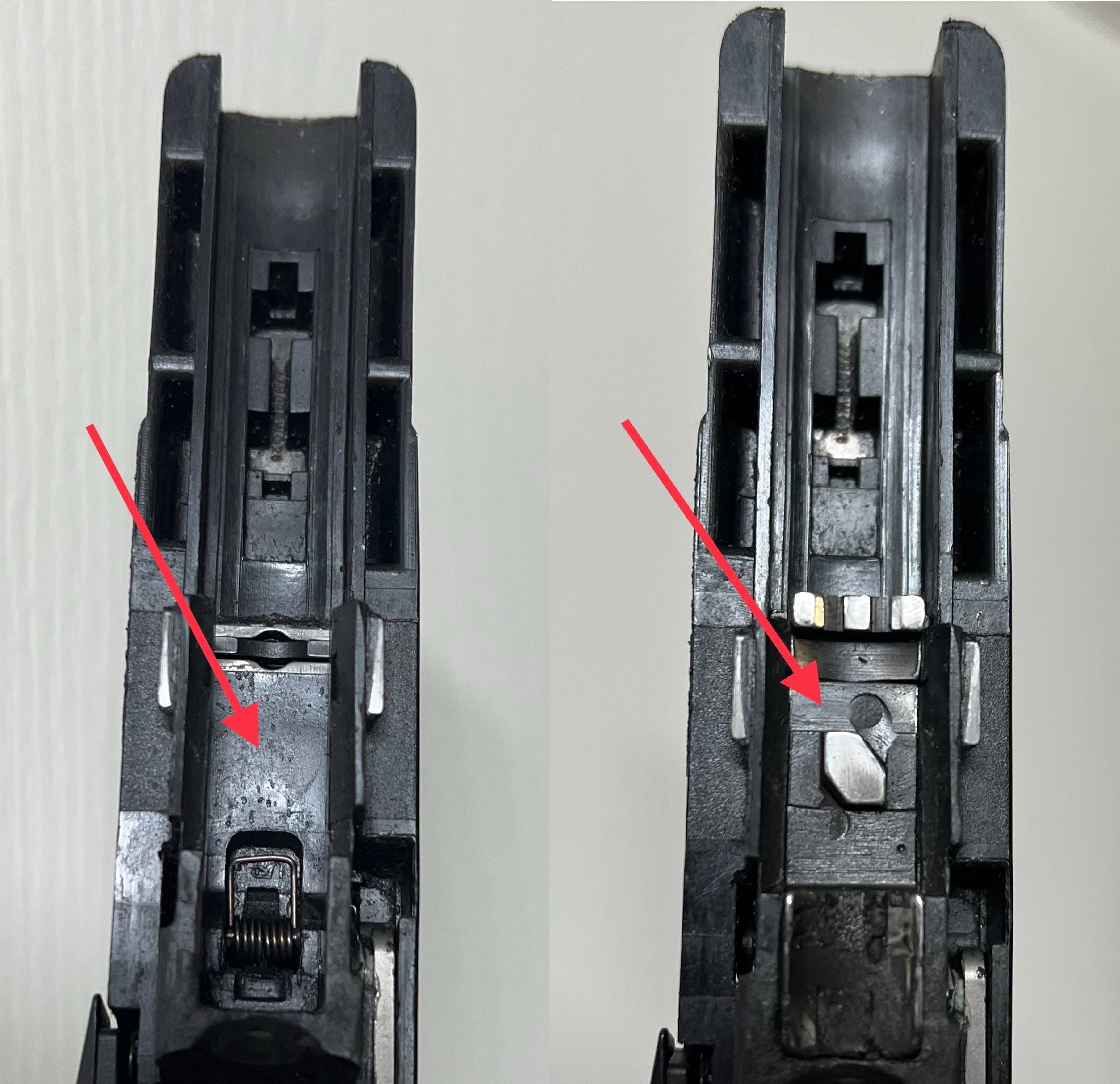 TRIGGER BAR: Will the PX4 Optimized Performance Trigger Bar work in my PX4?
Similar to our Optimized Performance Trigger Bar for the 92 series, the OPTB for the PX4 reduces reset to less than 1/10th of an inch, while also smoothing out trigger pull.
The PX4 OPTB fits & functions in the full size, compact, and subcompact PX4 pistols in 9mm & .40cal ONLY.

All PX4 OPTBs are produced in black DLC as of August 2023.

ArmorLube-DLC or Diamond-Like Carbon is the most durable and corrosion-resistant coating we have ever used. This is the same black finish we use on the Black 92 OP Tirgger bars, and we now have the special fixturing to bring this finish to the PX4 trigger bar.
HELLCAT: Why is LTT working on the Hellcat?
Since the introduction of the Hellcat, we have had many requests to work on this gun due to it's size, capability and round capacity. We have been working on this for several months as part of our effort to offer custom without compromise solutions to for every day carry customers.
CUSTOM WORK: Can I send my Hellcat to LTT? What Custom Gun Work is available?
LTT is installing Apex Tactical Trigger Kits, doing internal work to the firing mechanisms of the gun, offering and installing red dot optics (NOT ZEROING, however), and C&H Precision optic adapter plates (to allow installation of the Holoson 407k), as well as engraved Hyve aluminum backplates & extended magazine release buttons.
CONTENTS: What will I receive with my LTT Hellcat?
The LTT Hellcat ships with an Apex Tactical Trigger installed, LTT custom work performed on the internal trigger components, as well as the standard 11rd magazine (flush fit or extended) and 13rd magazine (extended) - the same magazines included from the factory.
Optionally LTT can install:
The Sig Romeo 3 or 6 MOA red dot OR Holoson 407k red dot sight (requires C&H Precision adapter plate)
The Talon Grips Evolution PRO package
The Hyve aluminum rear plate engraved with the LTT Logo
OPTICS: Can I have a red dot optic installed by LTT?
LTT can install the Sig Romeo (3 or 6 MOA) or the Holoson 407k (requires C&H Precision adapter plate) - please note we are not zeroing optics at this time.
GLOCK®: Why is LTT working on Glock®?
Prior to and since the introduction of the LTT Hellcat, we have had many requests to work on Glock pistols due to the plethora of options and robust reputation of the Glock platform. We have been working on this project for several months as part of our effort to offer custom without compromise solutions for every day carry customers.
CUSTOM WORK: Can I send my Glock® to LTT? What Custom Gun Work is available?
LTT is installing Apex Tactical Trigger Kits with our signature internal work to the firing mechanisms of the gun, installing C&H Precision optic adapter plates, installing Ameriglo back up and night sight options, and offering laser stipple options with more custom work in development.
CONTENTS: What will I receive with my LTT Glock®?
The LTT Custom Glock ships with an Apex Tactical Trigger installed, LTT custom work performed on the internal trigger components, as well as all factory accessories and magazines.
Optionally LTT can install or customize:
C&H Precision adapter plates for optics install (no optics at this time)
Our Brick, Fine, or Coarse laser stipple
Ameriglo BUIS or Night sight options
C&H Precision Speed Feed
MODELS: What Glock® models is LTT offering or working on?
Currently we are offering brand new customized Glock® Models:
G43, G43X, G43X MOS, G48, G48 MOS, G19 Gen 5, G19 Gen 5 MOS, G17 Gen 5, G17 Gen 5 MOS, G45, G45 MOS & G34 Gen 5 MOS

We will be offering Custom Gun Work for all of these, plus some options for Gen 3 and 4 pistols if applicable.


SCD: What is the Striker Control Device?
The Striker Control Device (SCD) is a cover plate for your Glock pistol that blocks the rearward motion of the striker when thumb pressure is applied to the back of the slide – similar to a hammer on a DA/SA hammer fired pistol. It was originally developed by Tom Jones and Todd Louis Green from the inspiration of double action hammer fired pistols, where shooters are taught to keep their thumb on the hammer when holstering. Keeping your thumb on the back of the hammer gives you positive feedback should something be caught in the trigger guard to prevent the gun from firing. The SCD does just that for the Glock striker fired pistols.
The SCD blocks movement of the trigger bar and prevents the trigger from moving.
The SCD does not lock or otherwise interfere with the normal operation of the pistol

unless

physical force is being purposely applied by the user. When using any normal firing grip (IE: hand is not on the back of the slide), the SCD is not engaged, acting as a traditional back plate.
Installation of the SCD requires you to remove the existing backplate and install the SCD.
Currently, we have three variants of SCD for Glock pistols:
The Gen 5 SCD: SCD works with all of the Gen 5 Glock pistols.
The Slim Frame SCD: works with G43, G43X, G43X MOS, G48, and G48MOS pistols.
The Gen 1-4 SCD: works with all Gen 1-4 Glock pistols.
The LTT SCD DOES NOT fit or function with the Glock 42 or Glock 44.
GRIP ANCHOR: What is the LTT & BPD Grip Anchor?
The Grip Anchor, developed jointly by Booth Performance Designs & LTT, provide multiple improvements to your Glock 19, but it's primary purpose is increased grip surface, without increased profile (height/width) of the pistol.
Along with this, the Grip Anchor provides a more concealable pistol by smoothing the rear corner of the magazine and frame that tends to print or poke. It rounds the bottom profile of the gun for better concealment and comfort against the body.
Additionally, the Grip Anchor fills the gap in the mag well to prevent dirt and grime from reaching the firing mechanisms, resulting in better reliability.
Finally, the internal smoothed, sloped edges of the Grip Anchor improves reload speed and consistency.
Developed with Mitchell Booth, an avid shooter and active duty Army Officer and Ernest Langdon, LTT is proud to bring the Grip Anchor to Market.
The Grip Anchor is quickly and easily installed with a single set screw.
GEN 3 GLOCK Owners: Gen 3 guns require the backstrap version grip anchor. The non-backstrap version will not fit.

Learn more about the Grip Anchor Here:
PERFORMANCE TRIGGER: Will the Glock® Performance Trigger work with the LTT Striker Control Device (SCD)?
No. The Glock® Performance Trigger causes the striker to become fully tensioned, defeating the purpose of the SCD.
The SCD will NOT provide any safety or functionality if used with the Glock® Performance Trigger.
SUPPLEMENTS: What supplements does Team LTT Recommend?
FITNESS: I see Team LTT working out on social media, where should I get started?
Our team loves to exercise and team workouts are a cornerstone of LTT!
You can start easy by taking a walk every day, or jump right in by finding a reputable trainer - we recommend trying the Street Parking program if you're starting your fitness journey - find out more on LTT Discover.
TIP: How to Clean and Oil your Gun
INSTALL: How to Install the LTT Optimized Performance Trigger Bar
TIP: Malfunctions test - what could be causing a malfunction?
PRACTICE: Spending time practicing behind cover
ABOUT: About Langdon Tactical, published by Carry Trainer April 2020
TIP: Cleaning, Lubricating and Oiling your gun with Carry Trainer and Ernest Langdon
ABOUT: Why Isn't My Trigger Reset Audible or Tactile?
A: You need to get off of your trigger and stop holding it to the rear while you are aiming the gun:
TIP: Overcoming Recoil Anticipation:
WATCH: How to fly commercial with firearms:
GREASE & LUBE: What grease or lubricant does LTT use?
CLASS REGISTRATION: Can I register for your Advanced Class without having taken one of your previous classes?
No, you cannot, unless you are registering for the 3-Day Advanced Tactical Pistol Skills Course (The 3- Day covers the prerequisites for the advanced).
My Tactical Pistol Skills Class is not a Basic course by any means. I often run into issues where people want to take this as their first or second class and they have a very difficult time keeping up. It is a very fast paced class where we do many drills that most consider advanced.
Attending my Advanced Class is not an issue of skill or ability, it is an issue of understanding of the fundamentals of how and why I teach and train the way I do. I have a very specific theory of training that is addressed in detail in the standard Tactical Pistol Skills class and not covered at all in the Advanced Class.
I have tried a few times to let people in the class that have "the skill" to attend, but they end up looking at me funny when I start talking about certain things and I have to go back and explain, which is a waste of time for the rest of the class.
PREREQUISITES: Do you have prerequisites for your courses? What do I need to know how to do before I register?
Please watch the video below for more information on LTT Course Prerequisites:
TARGET: Where can I purchase the target used at Ernest's class?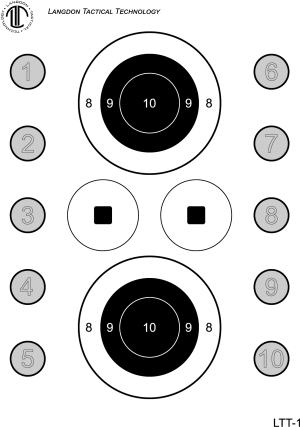 FAST DRILL: Where can I learn more about the Fast Drill? Is there a list of current coin holders?
Still Have Questions?


PLEASE Reference the Product Description for Shipping Time Frames, Product Information and Frequently Asked Questions BEFORE Sending an Email or calling. If we do not answer, it's because we are talking to another customer. PLEASE leave a message and we will get back to you as soon as possible.
REFUND POLICY – EFFECTIVE OCTOBER 1st 2022:
ALL FIREARM SALES ARE FINAL
As of October 1st 2022, ALL Firearm purchases are FINAL. LTT Cannot accept any changes or cancellations to firearm orders.
LTT proudly stands behind all workmanship and custom work performed in our shop - please contact us for any repair or service concerns.
See the full policy here: Firearms Purchase Policy - Return & Exchange Policy